It is a new year and that means it is time for a new Vintage Pledge li

st -

I hope - that is, there has been no official announcement

yet.

 Most of my pattern choices are repeats from other years that I just haven't gotten to, but there are a few new ones in the mix. It was really hard to pare down f

ro

m the stack I

originally pulled out

. I'm still busy with a new house and a new teaching job, so I went with patterns that matched fabrics I already had and would be guaranteed to be worn. I'm taking a trip to Florida in the spring,

I think it is clear that was an influence on my choices as well!
-

5

projects-
My hope with DuBarry 5610 and Hollywood 1580 is to make a little mix n' match set. From the tropical print rayon I want to make the halter dress and if there is any left over, a top as well. The yellow linen-rayon mix from Paron's will be for the Hollywood bolero and the skirt from the DuBarry suit. You can't see it in the photo but that same yellow shows up in the print fabric.
DuBarry 5758 has been on my list since 2015. I even have the fabric and shoes ready to wear with it.
V
intage baseball

popped

in m

y head

when I purchased this pinstripe cotton from Mood Fabrics.
The pink matches my hot coral

Keds perfectly.

Paired with Mary Martin 9237 I think it could read as a tribute to A League of Their Own uniforms, especially with a monogram or patch. On the other hand, Simplicity 2013 as a play set would also be a good match. Which do you like better?
Since my Carolyn Pajamas were such a disappointment I no longer plan to use them for summer PJs and pulled out this cute crop top

and short set again.
-3 projects-
I have enough of the polka dot fabric to make both Simplicity 1426 (view A) and 3250 so that's my plan - wearable muslins since the fabric is not anything dear. I am curious to see which style will work best. Now that I've started 3250, however, I am tempted to make the matching shorts from the leftovers instead! With a bikini bottom

sewn in it could even be a swim suit.
Advance 7729, started last year, needs to be adjusted to be bigger at the waist so I can actually wear it. I also have plenty left over to make a matching bolero or jacket if I like.
The 1960s
-2 projects-
While I have no current plans to sew the bikini or pants, I've slated the cute tunic/cover-up as a project to make

for Florida

. I'm not sure what fabric to use, though and nothing in my stash felt right. What fabric would you use?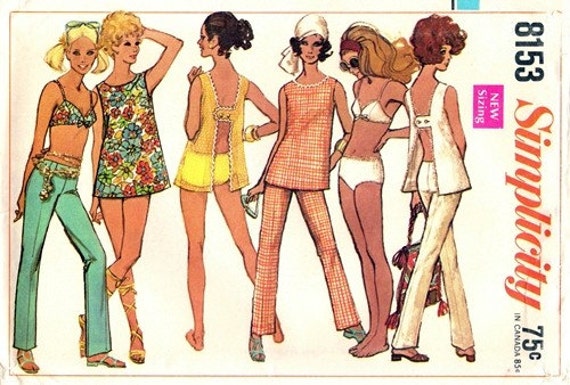 Now that I've got a TNT full-skirted shirt-dress pattern (McCall's 6696) I can finally make this crazy vest/overdress. Those pockets look just perfect for holding a good book (perhaps a Nancy Drew?)

Again, w

hat fabric would you use?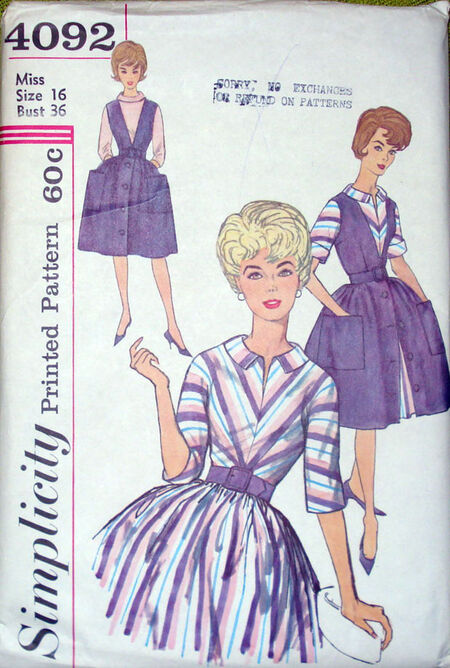 -3 projects-
Simplicity 7517 is right up my alley! The

"F

olk

wear"

styl

ing

, ease of fitting, opportunity to use fun prints and, of course, pockets. The best part is the original owner left some fabric in my copy. They are the print accent pieces in a cute vintage calico and I hope to use them myself.
I picked up this crinkly gauze over the summer at a yard sale because it clearly needed to be made into view 1 of Simplicity 7446 - sometimes I am too much influenced by the pattern illustration. I am tempted to make it short sleeved as I don't really wear cuffs on long sleeves,

and definitely not on a summer shirt.
Simplicity 8788 still needs to have the collar re-attached properly, the zipper then put back in and get hemmed.
I'm glad I've

chosen from several decades to keep things interesting.
What are you sewing for Vintage Pledge this year? Do you stick to one decade?
How nice it has been to break from blogging for a while! I stopped blogging in July, although my posting had already been sparse at that point. After six(!

)

years of blogging, I needed some time off. 2016 was not my busiest year, but I felt

drained

. I designed two shows in the late winter/early spring, neither of which were of personal interest to me so that always makes designing

harder

. 
At the end of the semester we moved out of our rental and into our first home! We had already owned it for a month or so but had spent the time refinishing the wood floors, which was a miserable task

(

and I wasn't even doing the hard parts). I think we were in it less than a week before we were off for our annual Maine summer vacation, where we took an extra week because it was the first time James was not working

over

the summer. 
Once we were back, however, it was back to work on the house. We completely ripped out the kitchen, all the way down t

hrough

the floor - really, there was no floor at one point! I would love to say we rallied and put together our kitchen in a month like we thought, but the truth is we're still working on it. We only just got lighting and electrical outlets and put in the fridge. Despite all the frustration i

t

has caused, we really love it, and not just because we put in every floorboard, cupboard and splash of paint ourselves.
I also cu

t

my hair into a pixie in the summer. It was not the cathartic experience it is for

some women, but I'm glad I tried it.
Now I am quite ready to sew and blog anew, but today's post is to fill you in on the sewing I've done since May as well as serve as my annual sewing summary post. It has mostly been a year of practical sewing. An asterisk denotes a stash-busting project.
Personal Projects
8. McCall's 6696 Shirt-dress*
This four-month venture will get its own post soon, because I have a

LOT

to say about it.
9. Sequined Fascinator
I taught an Introduction to Millinery

w

orkshop

to my students and we made fascinator hats.
10. "Saucy Spaghetti and For

k Man"
This was a fun couples costume James and I did for halloween. His shirt is from Kwik Sew 2881, and is actually a cycling shirt. My dress was a generic Simplicity costume pattern, one of those ones that can be a nun, a jailbird or a cavewoman all from the same dress

,

th

e

n I added yarn and crumpled craft paper "meatballs". James made his headpiece from an old b

ike helmet and foam.
11

. James' Carolyn PJ pants
Long story short, I made the Carolyn pajama pants for myself and they fit horribly, but they fit James' quite well, so they're his now. I might finish the top and give that to him too. Photos to come

!
1

2

. My PJ pants - Simplicity 2317
After the Carolyn PJ fiasco, I just used a simple Simplicity pattern for pants for myself. The top is still in the works. Photos to come

!
1

3

. Bag for Victorian Streetwalk
My friend and I participated in our city's annual Victorian Streetwalk and we had or borrowed everything but I still needed a small bag so I pulled out my reticule that I made for a Ren Faire in 2011 and finally repaired it.
1

4

. James' Joggers* -

Simplicity 8268
These will also get their own p

ost...
1

5

. Sam's stocking
I made the stocking on the left for my mother last year, and my sister's boyfriend got one this year. 
1

6

. My stocking*
I managed to squeeze mine in too (I bought the fabric last year)! Just needs my name. 
1

7

. Honey-bee PJ remake* - Kwik Sew 3076
The wool ones I made shrank weirdly so I made fleece ones

- i

n which she has already put several holes as well as rolled in dirt and then rubbed it on

our

newly painted white walls. That's the thanks you get when you're a dog mom.
18. Travel Pillow* - I re-made my travel pillow and learned

what works best for stuffing.

 
Theatrical Sewing
1. 70s shirt for Judas Iscariot
2. Kimono Robe
Nothing exciting or complex, but I did finally use a vintage John Weitz pattern!

We made it from a red stretch lace.
 Photo by Sue Kessler
2. WWCTW dresses
This was an exciting new venture for me. I took the pattern from my 1940s shirt-dress and combined it with a modern shirt-dress pattern the designers chose all while grading it up several sizes

.
 Photo by Sue Kessler
3. Cascade skirt
Using the experience from the WWCTW dresses as a jumping off point, I drafted a pattern for a tiered cascade circle skirt for our last show of the year. It came out better than I hoped and I'm really proud of myself for trying it.
I'm honestly surprised at how much sewing I got done with everything going on. It was one of my most productive years, in terms of numbers, but I also managed to focus on sewing useful things and stashbusting. I think 2017 will be a bit more fanciful, project-wise, but I hope to keep up my good sewing habits.
This is a little out of my normal posting content range, but it is relevant! In the midst of all the house chaos, I am doing the 30 Day Tiny House Challenge from
Let's Build A Tiny House
. Things are just too crazy to try and KonMari, so this at least helps me feel like I am making a dent. It is mainly focused on downsizing, but it also has challenges like "Buy nothing all day" or "Take a shower in under five minutes".
DAY 1
Create a list of the top 10 reasons you want to live tiny.
This was harder than I expected. There are a lot of good reasons to go tiny, but some of them are so similar that I think I could have condensed my list to five reasons.
1. Mental freedom - not feeling like I am owned by my possessions or by consumerism.
2. Environmental impact.
3. I want to spend less time cleaning and picking up, as well as the larger maintenance involved in house owning (such as cleaning your windows twice a year).
4. Save more money/spend less money. When you're on as tiny an income as I have, you have to manage your money very carefully. I've gotten much better at this, but could do better.
5. Spend my newfound free time on quality experiences, such as getting more exercise, traveling and learning a new language.
6. To not have the stress I get when I have too many possessions that aren't useful or bringing me joy.
7. Have better relationships. I feel like there have been times when I have been so inwardly focused (for example, sewing all the things!), or obsessed over things (for example, not having the right outfit to wear out) that prevent me from going out and spending time with people or even just having the mental space to care about others.
8. I want to feel good about my lifestyle. I talk a big game when it comes to the environmental and mental impact of living a certain way, but I struggle as much as most people with actually following through. I believe strongly in walking the talk and want to live up to my own standards.
9. Get outdoors more.
10. Find self-worth in my actions, not in my stuff.
DAY 2
Ditch the junk! Donate, sell, recycle, throw out 2 items.
I was more successful than I expected on this day. 
1. I put a set of knives in a pile of items to give to my sister, who is getting her first apartment.
2. I listed a sewing pattern on Etsy.
3. I recycled the LL Bean catalog that came in the mail right away, rather than flip through it and then set it down somewhere where it would sit for a month.
4. I sold on Amazon a spare french press beaker we bought in the wrong size.
DAY 3
Recycle old newspapers and magazines.
This was a tricky challenge. We don't get a newspaper and currently don't subscribe to magazines. I had recycled all my home decorator magazines earlier in the year. So instead I made an effort to go around the house and pick up the random to do lists, flyers and receipts and recycle those, as well as do some more unpacking and recycle the paper from that.